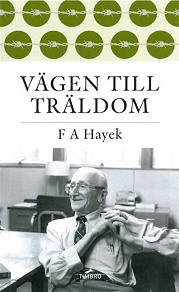 Isbn:
978-91-7566-717-1
Publisher:
Timbro förlag
Category:
Society & Culture
Philosophy
Accessible since:
May 2012
Narrator:
Håkan Tribell
Length: 8 hours 21 minutes
---
Vägen till träldom
Vägen till träldom är ett av vår tids centrala politiskt-filosofiska verk. Boken återfinns ständigt på listor som tidskrifter och akademiker upprättar över 1900-talets viktigaste böcker. Hayeks tunga kritik av totalitarism och planekonomi blev efterkrigstidens skarpaste intellektuella vapen mot de krafter som ville kontrollera samhället från ovan.

Boken var djupt kontroversiell när den publicerades 1944. Politiker i väst eftersträvade ökad planering av ekonomin och många intellektuella såg Sovjetunionen som en förebild. Den klassiska liberalismen var i det närmaste utdöd. I det läget beskrev Hayek kommunismens och nazismens gemensamma rötter, och visade hur övergripande statlig planering undergrävde de demokratiska fri- och rättigheterna. Samtidigt lyfte han fram den liberala traditionen som ett livskraftigt och inspirerande alternativ.

F A Hayeks Vägen till träldom utövade stort inflytande på läsare som Winston Churchill, George Orwell, Ronald Reagan och Margaret Thatcher. Här i Sverige fick boken en av 1900-talets stora politiska tänkare, Herbert Tingsten, att lämna socialdemokratin för liberalismen. I det kommunistiska Östeuropa gavs boken ut i piratupplagor och spreds underjordiskt av motståndsmän och oppositionella. Detta är ett verk som har fått murar att rämna.

Friedrich Hayek (1899-1992) var en av 1900-talets intellektuella giganter. Han föddes i Österrike och hade doktorsexamen från Wien i både juridik och statsvetenskap. Men det var som en av de ledande ekonomerna i den österrikiska skolan, och som ett av liberalismens största namn, han vann berömmelse. Hayek var verksam bl a vid London School of Economics, och universiteten i Chicago och Freiburg. 1974 tilldelades han Riksbankens ekonomipris till Alfred Nobels minne.

Originalets titel: The Road to Serfdom. Authorised recording from the original edition.
(c) Routledge, a member of the Taylor & Francis Group. All rights reserved.
Listen to sample
---