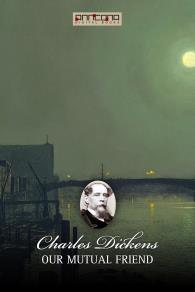 Isbn:
978-91-7605-213-6
Publisher:
Anncona Media
Category:
Novels
In english
Accessible since:
April 2014
---
Our Mutual Friend
Our Mutual Friend (written in the years 1864-65) is the last novel completed by Charles Dickens and is one of his most sophisticated works, combining psychological insight with social analysis.

The Novel centres on, in the words of critic J. Hillis Miller, "money, money, money, and what money can make of life", but is also about human values.

In the opening chapters a body is found in the Thames and identified as that of John Harmon, a young man recently returned to London to receive his inheritance. Were he alive, his father's will would require him to marry Bella Wilfer, a beautiful, mercenary girl whom he had never met. Instead, the money passes to the working-class Boffins, and the effects spread into various corners of London society.

In Our Mutual Friend Dickens explores the conflict between doing what society expects of you or being true to yourself. Much of what society expects of a person may be shown through the influence of one's family. In many of Dickens's novels, including Our Mutual Friend and Little Dorrit, parents try to force their children into arranged marriages, which, although suitable in terms of money, are not suitable in other ways.

G. K. Chesterton, one of Dickens's critics in the early 20th century, praised the book as being a return to Dickens's youthful optimism and creative exuberance, full of characters who "have that great Dickens quality of being something which is pure farce and yet which is not superficial; an unfathomable farce—a farce that goes down to the roots of the universe."

Unabridged version - 334,612 words - 925 pages in the printed edition.

Charles John Huffam Dickens (1812-1870) was an English writer and social critic. He created some of the world's most memorable fictional characters and is generally regarded as the greatest novelist of the Victorian period. During his life, his works enjoyed unprecedented fame, and by the twentieth century his literary genius was broadly acknowledged by critics and scholars. His novels and short stories continue to be widely popular. Dickens was regarded as the literary colossus of his age. His 1843 novella, A Christmas Carol, is one of the most influential works ever written, and it remains popular and continues to inspire adaptations in every artistic genre. Set in London and Paris, his 1859 novel, A Tale of Two Cities, is the best selling novel of all time. His creative genius has been praised by fellow writers, from Leo Tolstoy to George Orwell and G. K. Chesterton, for its realism, comedy, prose style, unique characterisations, and social criticism.
---