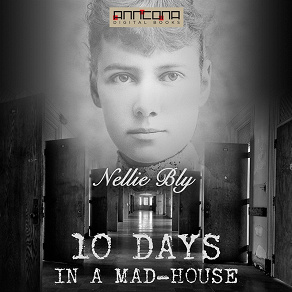 Ten Days in a Mad-house
Ten Days in a Mad-house is an extended investigative essay by Nellie Bly that was first published in 1887.
In 1887 Nellie Bly, one of the first female newspaper writers, and a young reporter who would soon go on to make a career for herself as an investigative journalist and "stunt" reporter, had herself committed to the Blackwell's Island Insane Asylum in New York. Her purpose was to discover what life was like for those who had been deemed insane.
After a night of practicing deranged expressions in front of a mirror, she checked into a boardinghouse. She refused to go to bed, telling the boarders that she was afraid of them and that they looked "crazy". They soon decided that she was "crazy", and the next morning summoned the police. Taken to a courtroom, she pretended to have amnesia. The judge concluded she had been drugged.
Several doctors then examined her; all declared her insane. "Positively demented," said one, "I consider it a hopeless case. She needs to be put where someone will take care of her." The head of the insane pavilion at Bellevue Hospital pronounced her "undoubtedly insane".
Committed to the asylum, Bly experienced its conditions firsthand. The food consisted of gruel broth, spoiled beef, bread that was little more than dried dough, and dirty undrinkable water. The dangerous patients were tied together with ropes. The patients were made to sit for much of each day on hard benches with scant protection from the cold. Rats crawled all around the hospital. The bathwater was frigid and buckets of it were poured over their heads. The nurses behaved obnoxiously and abusively, telling the patients to shut up, and beating them if they did not. Speaking with her fellow patients, Bly was convinced that some were as sane as she was.
The book's graphic depiction of conditions at the asylum caused a sensation which brought Bly lasting fame and prompted a grand jury to launch its own investigation with Bly assisting. The jury's report resulted in an $850,000 increase in the budget of the Department of Public Charities and Corrections.
An independent film version of 10 Days in a Madhouse, written and directed by Timothy Hines, starring Caroline Barry, Christopher Lambert, Kelly Le Brock and Julia Chantrey, was released the fall of 2015, from Pendragon Pictures.
Nellie Bly
(1864-1922) was the pen name of American journalist Elizabeth Jane Cochrane. She remains notable for two feats: a record-breaking trip around the world in emulation of Jules Verne's character Phileas Fogg (
Around the World in Seventy-Two Days
, published in 1890), and an exposé in which she faked insanity to study a mental institution from within (
Ten Days in a Mad-house
, 1887).
Listen to sample
---