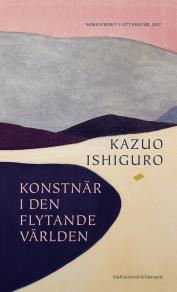 Isbn:
978-91-4623-529-3
Publisher:
Wahlström & Widstrand
Category:
Novels
Accessible since:
September 2019
---
Konstnär i den flytande världen
Det är 1948 och medan Japan byggs upp ur ruinerna efter andra världskriget försöker människorna gå vidare. Den berömde konstnären Masuji Ono tillbringar dagarna i trädgården med sina två vuxna döttrar och ett barnbarn, och på kvällarna dricker han med gamla bekanta. Med ålderns rätt borde han rofylld åtnjuta en stillsam tillvaro som pensionär, men han hemsöks av minnen från det förflutna och från sin konstnärliga karriär som i grunden grumlats av den japanska militarismens framväxt.
Med debuten "Bleknande berg" (1982) etablerade sig Kazuo Ishiguro omedelbart som en av den engelska litteraturens mest intressanta författare. "Konstnär i den flytande världen" (1986) är Ishiguros andra roman och för den erhöll han Whitbread Book of the Year och den nominerades också till Bookerpriset.
I nyöversättning av Niclas Hval.
---