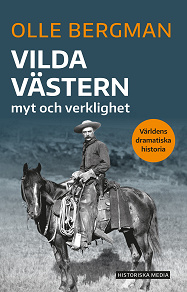 Isbn:
978-91-7789-505-3
Publisher:
Historiska media
Category:
History
Accessible since:
September 2021
---
Vilda västern
Go west, young man! Efter det amerikanska inbördeskrigets slut 1865 drog tusentals hoppfulla amerikaner och européer västerut. Med de strävsamma nybyggarna följde en svans som sökte försörjning, äventyr eller snabba rikedomar. Farmare, hantverkare, handelsmän, boskapsdrivare, pälsjägare, guldgrävare, buffeljägare, prostituerade, statstjänstemän – alla sökte de lyckan i gränslandet i väster, The Frontier.

Här möter vi Jesse James, Billy the Kid, Wyatt Earp, Sitting Bull, Crazy Horse och andra som gått till historien, och får en fördjupad bild av epokens ikoniska centralfigur – cowboyen – och hans strävsamma liv ute på vidderna.
Fängslande människoöden inramas av en större berättelse som beskriver det sena 1800-talets amerikanska migrationshistoria, den skenande teknikutvecklingen och typiska fenomen som homesteaders, boom towns, cattle trails och rail heads.
Författaren Olle Bergman skriver engagerat och nyanserat om människor och händelser på ett sätt som tar läsaren bortom vita dukens gängse schabloner. Boken kastar ljus över en märklig och våldsam tid som fortsätter påverka USA än idag, inte minst vad gäller den amerikanska individualismen, vapenkulturen samt de sociala villkoren för ursprungsbefolkning och afroamerikaner.
---