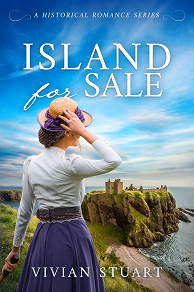 Isbn:
978-99-7964-409-5
Publisher:
Jentas IS
Category:
Romance
Accessible since:
May 2022
---
Island for Sale
INTRIGUE. TENSION. LOVE AFFAIRS:
In The Historical Romance series, a set of stand-alone novels, Vivian Stuart builds her compelling narratives around the dramatic lives of sea captains, nurses, surgeons, and members of the aristocracy.
Stuart takes us back to the societies of the 20th century, drawing on her own experience of places across Australia, India, East Asia, and the Middle East.

Alastair Macrae, tall, handsome Laird of Carra, is forced to sell the land that has been in his family's possession for five hundred years, in order to pay the crippling taxes he has inherited with it.
The buyer is an American — Cornelia McCall — young, lovely and rich, whose heart is set on the Wimbledon Tennis crown.
Everyone tells Alastair that he should marry her ... but Alastair is proud. Carra must go, he knows, but he himself is not for sale. Cornelia is the last woman on earth whom he could marry …

Vivian Stuart was a British writer and during her writing career she had more than 70 books published in Australia, USA and the UK.
Born in Berkshire in England, she spent most of her youth in Burma and India, and later lived in Hungary and Australia. At the age of thirty-five she began to write romantic fiction but soon devoted her attention to military and historical novels.
---